Welcome
We are pleased to welcome you to the Program in Economic and Public Policy at the University of Tsukuba. Our Program has been operating from April 1995 and it is the oldest Partner Program in Japan of the Joint Japan/World Bank Graduate Scholarship Program, a large scholarship program funded by the Government of Japan and managed by the World Bank Institute in Washington. In addition to that sponsorship, we have entered into a partnership with the Asian Development Bank since the 9th cohort (2011-2013).
Throughout these past twenty years we have received 120 scholars from 46 developing countries in Africa, Southeast, South and Central Asia, Central and South America, Middle East, and Europe, as of April 2015. Most of our graduates return to their countries to take over positions of high responsibility in these areas, while some go on to pursue Ph.D. degrees in high-level academic institutions.
Last, but not least, we are located in the Science City of Tsukuba, a technopolis established in 1987 and that embodies the spirit of cooperation between Japanese private and government sectors for the sake of economic development. Tsukuba is a very progressive and pleasant city that is just 45 minutes away (by express train) from Tokyo, itself one of the most metropolis in the world. We invite you to look thoroughly at our web site and to write us (wbgsp@dpipe.tsukuba.ac.jp), if you have further questions.
April 2015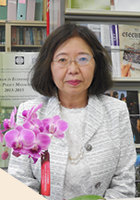 Director of PEPP
Prof. Motoko Shuto