【Closed Feb 5 2021】Program Application Window for October 2021
2020/12/21
The second application window for October 2021 enrollment in the Master's Program in Economic and Public Policy (PEPP) opened Thursday, December 17.
Application period: December 17th, 2020– 23:59 February 05th, 2020 (JST)
Details on how to apply via one of our two admission tracks (Scholarship Track and General Track), together with links to our online admissions system, information on eligibility and much, much more can be found below:
Application Links:
Scholarship Track: https://pepp.hass.tsukuba.ac.jp/admission/
General Track: http://pepp-cepgt.hass.tsukuba.ac.jp/admission/ 
For general information about PEPP, visit the program homepage:
https://pepp.hass.tsukuba.ac.jp/
Inquiries
Scholarship Track related: pepp_app [at] un.tsukuba.ac.jp 
General Track related: pepp-cepgt [at] un.tsukuba.ac.jp 
* Replace [at] with @.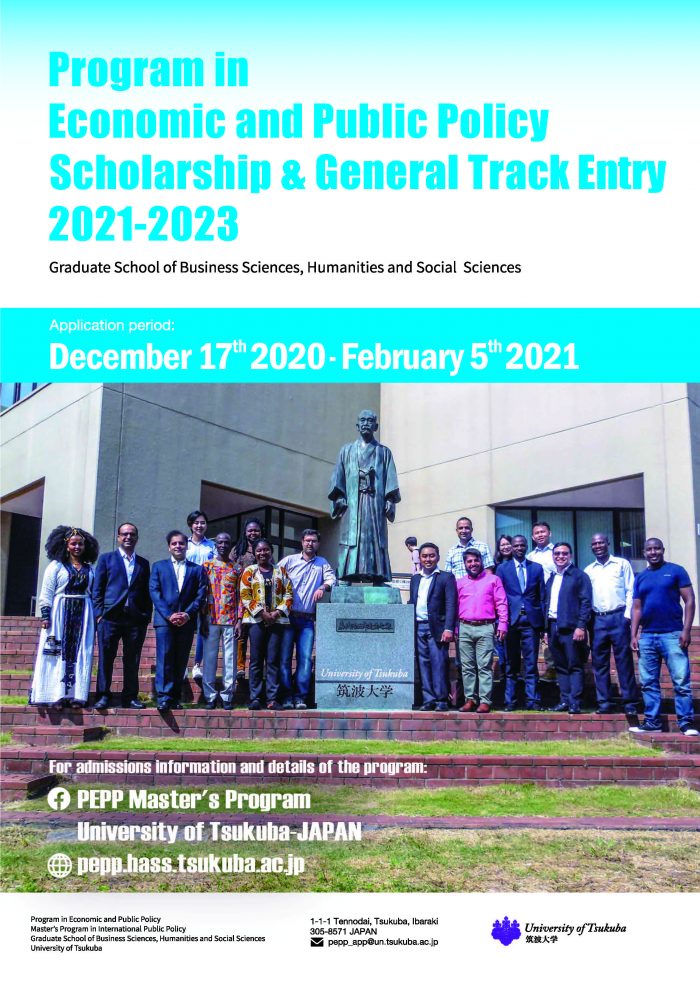 The 18 month Program, taught in English and offering an MA in International Public Policy, welcomes applications from around the world via two application windows every year, and aims to provide training and the necessary skills for the conception, design, and implementation of public policies. 
With an emphasis on quantitative skills in economics in conjunction with modern technologies such as Big Data analysis, econometrics, GIS analysis, satellite image analysis, household survey analysis, population data analysis and health research in developing countries, the program seeks to contribute to the creation of an international community of highly trained professionals addressing the daily challenges of economic and social development.